Costumes, design, visual effects, special effects [ENG]
Costumes

Costum design is from Mayes C.Rubeo, Costume Designers Guild Awards nominated in 2003. He has made costumes of Mel Gibson's Apocalypto, and he's creating those of James Cameron's Avatar.

Eduardo Castro, Betty costume designer, winner of three CDG awards and three times nominated at the Emmy Awards,has designed two superheros costumes for Dragonball.













Sangoku (Justin Chatwin): Sangoku, in his High School period,will dress black pants and an orange sweat.

Then, during a part of the movie, he will be dressed as anyone: jeans, shirt, jacket ...
During martial arts tournaments, when he will be watching Chichi's fight, he will dress gray T-shirt and pants and coffee shoes.
Finally, perhaps at the end of the movie (SPOILER:

during the final battle against Piccolo, which probably takes place in the crater of the volcano

END OF SPOILER) will bear costume of the school Famous Turtle (see below). This suit has been modified: the trousers are blue very large, and the upper part of the costume consists in a blue T-shirt on which is superimposed a kind of cross-sleeved vest orange with a few seams of the same blue. The insignia of the school at the Turtle is visible on the left side of his chest.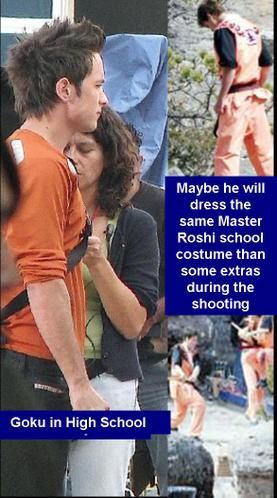 Concerning hairs, Justin Chatwin won't have any wig. And his hair are more and more longer, as you can see on the photo below.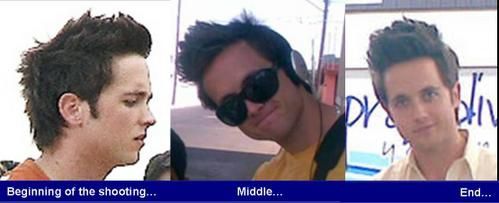 Piccolo (James Marsters): The most waited character! The only official information is from James Marsters. He says Piccolo is bald, green, with pointed ears.

According to unoffical witnesses, Piccolo won't have turban, et will have a rocky skin. Some rumors say that branches will be added digitally. Different witnesses says that his costume and his allure are a total success.


Ed French, the special effects makeup of the film (see below in the article) has kindly posted a photo of him and Piccolo. You can see he has a kind of black armour. Two possibilities: either it is the costume Piccolo, it is a prosthetic body (as used in making Ed Grimm (The Thing) in the Fantastic 4. Personally, I rather look for second solution, for several reasons:
- Ed French is an excellent special effects makeup artist, who knows particularly well how to create such prostheses.
-- You see grooves in the arm "costume" as those arms Piccolo, and we see many muscles drawn (pectoral, abs)
-- It was 4 hours each day to prepare James Marsters ... it seems to be very long only for the face (even if it must represent a lot of work)
I think it is a prosthesis wore like a suit and then probably been painted. You can see in the next documentary (about The Thing in Fantastic 4, at the end) after the photo what can look like this kind of prosthesis once painted.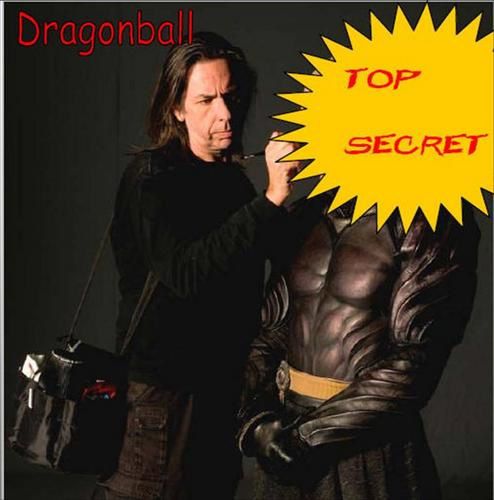 Chichi (Jamie Chung):
Witnesses are from martial arts tournament extras. They have said that this day, Jamie Chung dressed a red dress with small black patterns.
According to El Siglo de Durango, the photo below is a photo of Chichi, but a lot of people think that the reporter has made a mistake, and that in fact, it's a photo of Mai (it's what I think). According to an article of the newspaper Reforma, Chichi and Bulma will have

blue and pink flashy wigs.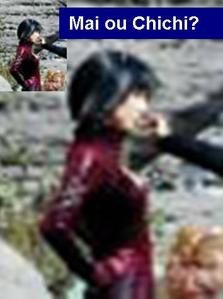 Some people on the web think that the pic below (a pic of the same day, 15 january) is a pic of Jamie Chung. The caption of this photo in El Siglo de Durango is :"The battles involve different fans and main actors".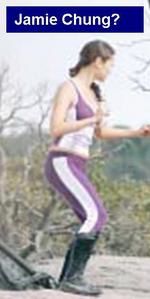 Mai (Eriko Tamura): We have the witness of Martial Arts Tournament extras: Mai dressed a leather black dress with small red patterns. She was very very hot! Some people says that the Jamie Chung in red dress photo above is, in fact, a Mai photo (I think the same).

According to a photo of her stunt double in costume during the tournament Martial Arts (which I do not have the right to publish) May wears a kind of black latex combination with some red stripes.
May will also have to the index finger a sort of metal claw. She has her hair hair cut into square plunging, and don't seem to have a wig.
Bulma: All we know is that she will have, according to the newspaper Reforma, a flashy wig. Certainly blue. But we have seen her stunt double in some pics (I'm not allowed to publish them), and she hasn't got blue hairs. She has a high horsetail with a long fringe, brown hair, small fitting jacket and trousers, always with a gun at the waist or thigh, and boots (king of Lara Croft look).

Yamcha: In some photos, you could see Joon Park (Yamcha) with wicks platinum blond wicks. But according to those present at the shooting, these photos were taken before her makeup and hairdressing, and during the film, it would have much hair brown.


Tortue Géniale: Far from the sunglasses guy with hawaian shirts: large brown pants and dirty light brown sweat.

Gohan
: Surprise! No news

Small roles and extras: There is a pic of Texas Battle, who plays a not very nice guy of Goku's High School.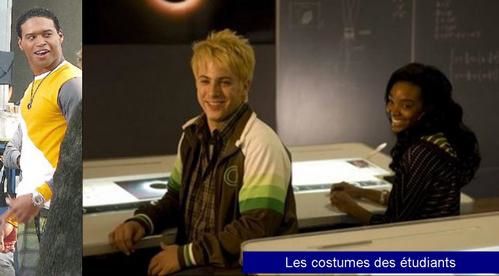 About extras, we have pics, from El Siglo de Durango (15 january), with very flashy costumes! And we can see the famous orange costume of Master Roshi School.
At the end of the page, you can find a video of 300 making of. You can see the difference of how the costumes look like before and after visual effetcs. Studio Hybride is in charge of Dragonball Visual Effetcs, and have donne those of 300.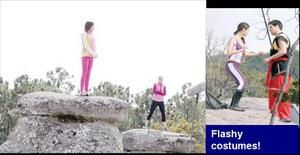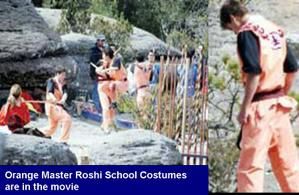 Visual effects: This is tranform shot image during post production.
- Pré-visualisation: The aim is to achieve a kind of 3D skeletons for complex scenes with stuntmen and special effects.
Here is an example of sophisticated pre-viz : Superman Returns



Two studios are in charge of it:

Image Engine (Mr Magorium)
Ollin Studio (Zodiac)

- Visual effects supervisor: the aim is to lead and coordiante all the teams working on visual effects.
Hybride (300, Sin City) is in charge of it.
Under there are two videos: a sneak peek of 300 (Hybride has done visual effects of this movie), and a part of the making-of 300. It allows to have a good vision of the work realized by Hybride studio.



Special effects
The special effects have to create an illusion during the shooting of a movie, as opposed to the visual effects, integrated into the film during post-production. It can be explosions, or animatronic for example. For example, in Jurassic Park, the scene in the tree with brachiosaure was a special effect, because it was shooted with a mechanical brachiausaure, while the scene at the beginning, when the heroes arrive on the island and discover for the first time dinosaurs, are visual effects, because brachiosaures incorporated into this scene were digitally dinosaurs inserted during post-production.
The studio in charge of special effetcs is Amalgamated Dynamics (AVP2, X-men Wolverine, Spiderman, Evolution...).

Here is a very good video about Amalgamated Dynamics work on Alien Versus Predator Requiem.

Special make-up effects
Two great artists have worked on the special makeup effects of this movie, especially on the Piccolo make-up.
Ed French (two Emmy Awards, two Make-Up artist guild awards), has done the main part of the movie. You can under his work in others movies.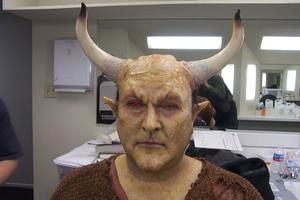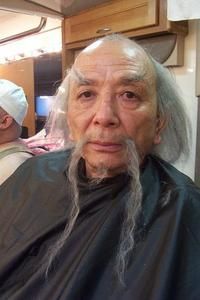 Ed French has very kindly accepted to speak to this website about James Marsters make-up:
" I can say that it was a 4 hour make-up that I applied many times over a month and a half andthat James Marsters was a very pleasant and professional actor to work with. In fact, I enjoyed working with him more than any actor I've applied prosthetic make-up to. He was very patient and enthusastic about playing the role and I admired his work. "



Bart Mixon, (Hellboy, Fantastic Four, Men In Black...) has done the special effects makeup in the last weeks of the shooting.




Creature designer
The creature designer is Alex Tuis. He has designed Piccolo and an other creature. You can discover his universe on his website: Alex Tuis Conception and Design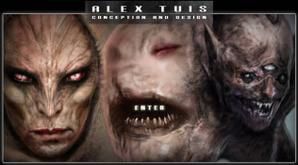 + Bonus: a demon army!

At the beginning, Piccolo had to be assisted by an army of Ninjas. But some people say that Stephen Chow doesn't like the idea, and had decided to replace them by demons called Fulum Assassins (not created by Alex Tuis). They regenerate and multiplicate every time they loose a member, they have three eyes each with a different vision, a gaping mouth the top and bottom of the head, arms and sharp retractile hidden inside clavicles and extremities. In some photos, we have seen that tey are brown-green.
A Mexican journalist of the newspaper Ovaciones, Carlos Galvan, made sketches trying to translate what one member of the production would have described.